Glass Garden Gallery
A boutique art glass studio specializing in unique handcrafted glass jewelry, gifts and home decor. Artist/owner, Jill Anderson designs and constructs custom art glass creations for you, your home and/or business with traditional stained glass and kiln formed (fused) glass methods.
Dichroic Glass Jewelry
Dichroic glass was Initially developed by NASA to protect our astronauts from the harsh rays of unfiltered sunlight that permeates space. Although it has served our astronauts well, its dazzling beauty and vivid color reflections also make it the perfect material for one of a kind wearable glass art.
Read more about this incredible glass and how it is made below:
Read More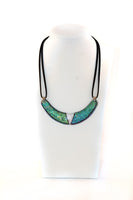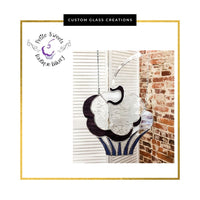 Custom Glass Creations
Congratulations Petite Sweets! NOW OPEN!
Have your business logo made into glass art like Petite Sweets Boutique Bakery in Headland, Al. Check out the two large glass cupcakes suspended from their ceiling. While you're there check out the REAL thing, Stephanie's delicious sweets!
Contact Now